Jakarta-Events!

Log in
Create one free.
Not an account yet? Create one free.

Search events
Latest 10 reviews
1

7.2

Cazbar

02 december

2

6.8

Sushi Tei

20 november

3

4.8

Aphrodite

15 june

4

4.4

Aphrodite

15 june

5

5.8

JCO

13 june

6

6.2

KFC

13 june

7

6.6

Holland Bakery

11 june

8

7

Excelso cafe

11 june

9

3.6

Jaya pub

11 june

10

7

Waroeng Steak and Shake

10 june
Regular events
Total events:
Total review:
Total places
No reviews found for Gourmet
To write a review, you need to be registered and logged in.
Login
.
All adresses from Gourmet in Jakarta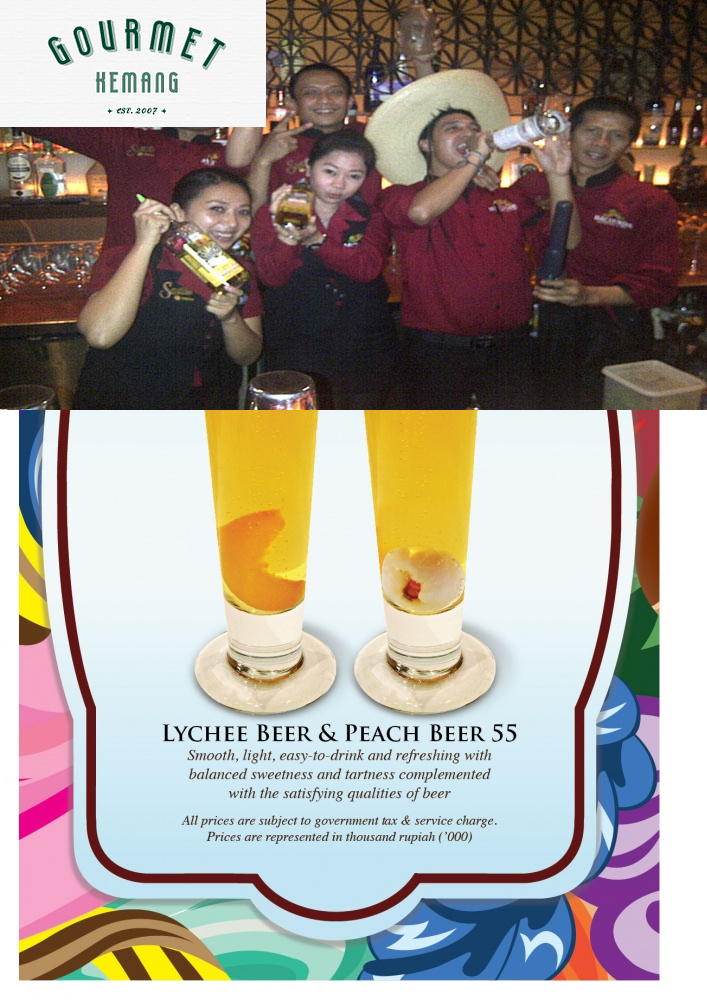 Gourmet is removed from favorites

You have to be logged in. You are being forwarded to the registration form
Add to favorites
nan

Votes 0
Established since 2007, Gourmet Kemang offers a series of culinary indulgence journey for lunch and dinner. With warm and sociable ambiance and select ingredients concocted by seasoned hands, Gourmet Kemang presents a blend of distinctive cuisines that cater your culinary dream. Its preferred selection of Western and Asian cuisine offers ample choices of the best culinary experience for everyone. It also has an array of classic Japanese cuisine. Your experience will be perfected with luscious cocktails and wine and sealed with choices of delightful dessert. As one of the pioneers of integrated culinary experience with a decade long experience, we assure you that your journey with Gourmet Kemang is one you will never forget.
Top places in
Bar and restaurant
Top 5 viewed events
Bar and restaurant
Other places in category
Bar and restaurant
Events the coming 10 days
no non-recurring events found for Tuesday 14 July

16 regular events found for Tuesday

Rusty Racquets Tennis with ANZA. Every Tuesday, 19 August to 16 December 2014 starts from 08:00 to 1..... Event detials

Blood Donoation car is PMI DKI Jakarta's activiti which is held every day. This car scattered in var..... Event detials

Massage Traditional Bali, with variant technique will relax your body and mind like no other. This t..... Event detials

Preserving Indonesian Traditional Kite and Organized Annual Jakarta Kite Festival.Let's enjoy the ..... Event detials

Get ready for AMIGOS HEART KIDS! Kids eat Free from Monday - Friday from 10am - 5pm at Amigos Jakart..... Event detials

Relax and Save during Spa Happy Hour, Get 20% discount on all Spa treatments on Monday to Friday at ..... Event detials

Jakarta Urban Festival " JakUnFest2016 " is an event Complete, grandest and the hottest of events - ..... Event detials

Wanna stuff your face at lunch? For 85,000 Rupiah you can have all you can eat mexican food at Amigo..... Event detials

Monday throug friday, 12 noon - 2.30 pmIt's lunch time!Enjoy our scrumptious lunch buffet while ..... Event detials

Buy1 Get1 free on all house Margaritas. Usually 100k each. So if you "tener ganas de" (crave) an ear..... Event detials

Signiture Cocktails, house pours and domestic beers. 4.00pm-7.00pm Weekdays. Get off work early and ..... Event detials

For your daily special cocktails (for ladies) and beer (for boys)Orange cinnamon martini, strawbe..... Event detials

Cocktail hour at Wilshire Freeflow starts at Monday- Thursday 5-8pm at Rp 250.000++ pax ..... Event detials

20% discount on beer30% discount on all spirits..... Event detials

2 hours of buy 1 get 1 on draft beers at JJ Royal in both Lotte Shopping Avenue and Senayan City Mal..... Event detials
Advertising?
For FREE! you can add events on our website. Register
here
and click on the link : "place events" to put your events and wait for approval.